Yesterday my father needed to do a photo shoot of a family and it was done at Simon's Island, GA. I feel in love with the beaches right away! I live right near a beach in California but I don't have a desire to be there daily. You know, traffic, too many people, bums, etc.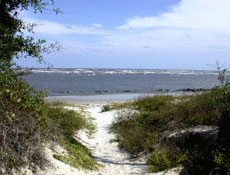 The beach we went to was amazing. I can't wait to post real pictures and not one off of Yahoo Images. You can walk in the sand and it's so soft and doesn't hurt your feet. You can walk far out into the ocean before you sink and the water is warm. I brought my bathing suit but had no real intention on getting in. I so changed my mind within minutes. I had a blast! Kaila caught fish with a net after making quick friends with some kids on vacation from Colorado. My father and step mother took lounge chairs into the surf and just relaxed as the water hit them. Such a mellow day!
We returned back to my dads and I wanted to take a walk with Kaila to see the cows down the road but again, it was raining. I'm noticing this to be a afternoon trend here. So we went to a indoor miniature golf place. There isn't much to do in Douglas if you're young I've found out. Today if it rains we'll be heading to a place called "The Fun Place" and for $10.00 you can play as many games as you want. I know she'll have fun there too.
We're going to Jacksonville, FL at some point today to see my step siblings and niece. That should be nice. I haven't seen them in two to three years.
I will update more later. This is nice doing a daily vacation blog (:
My goal for next year is to convince Eric we need to do a drive up and down the East Coast to hit all the nice beaches. That would be a wonderful vacation (: